body {background:url('images/C0737A.jpg') no-repeat left top;} #overall-wrapper {display: none;}
Plan C0737A
This 737 S.F. 24' by 24' Cabin with loft is a very popular design. Access to the main floor is provided by a front door from a full width sheltered front porch. The open living area is vaulted and includes a complete kitchen. The cabin has a bath with a full tub with shower.
These plans include:
Roof specifications and Details
Elevation drawings
Cross sections
Connection details
Two types of footing designs
Bracing details
Foundation and floor plans
Plumbing and Electrical
Materials list
Specifications:
Walls -
2X6 studs @ 16 O.C.
Roof -
12/12 pitch, framed roof
Design Snow Load -
50#/S.F. live roof load
Ceiling Height -
8
Size -
24' wide X 24' long
Footing Size -
12" wide X 6" tall
Overall Height -
21'-10''
$299.00
includes Emailing of plans
We accept: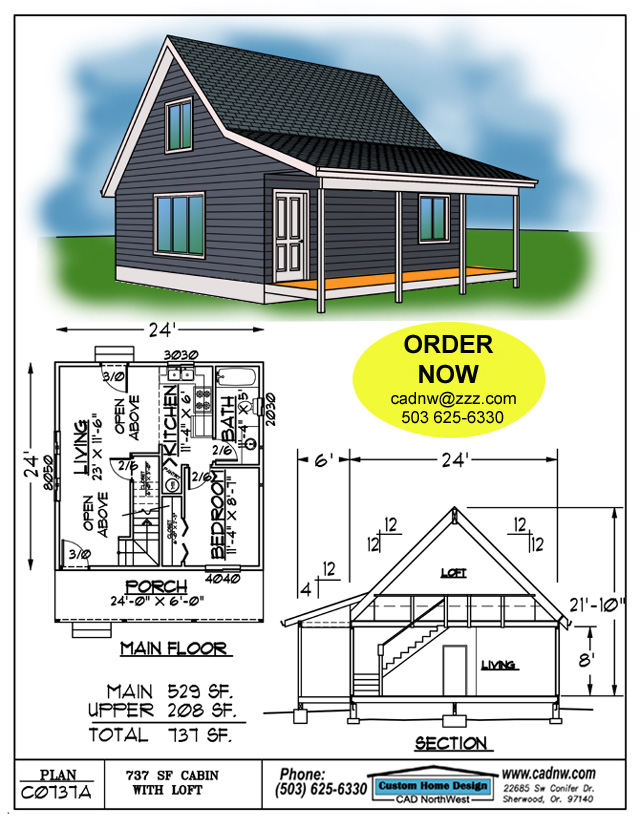 Free Materials:
Get the Materials List for this plan now:
C0737A Materials list
You may need to have an Acrobat Reader to view this.